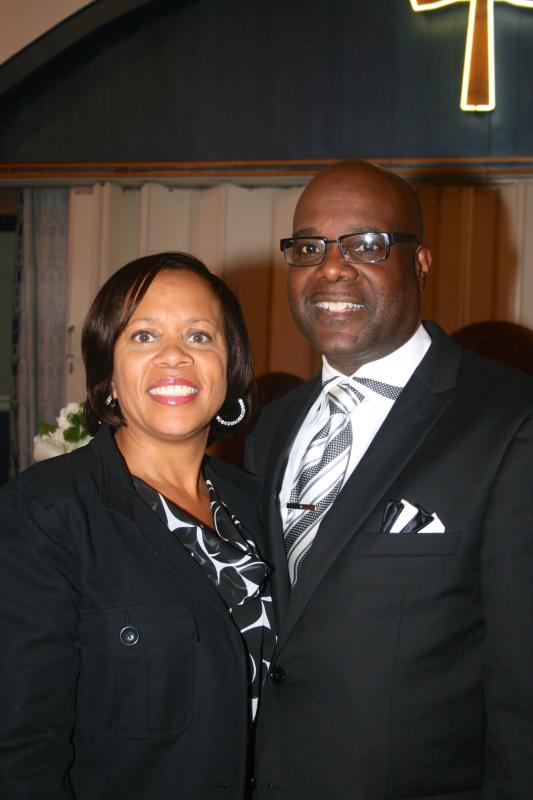 "Pastor Robert C. Morris" - Senior Pastor- inthenameofjesus@comcast.net
Pastor & Mrs. Robert Morris
"Pastor Robert C. Morris" was born in Tinton Falls New Jersey, and is the son of the late, Elder Charles and Louise Morris. Pastor Morris grew up in a home that revered the Lord and receiving his first teachings of Gods word under his Fathers tutorledge and the guidance of his parents. As he grew and matured in the word of God he joined The Macedonia Baptist Church located in Lakewood, New Jersey where he became a faithful member for 11 years under the leadership of Dr. Albert C. Clayton. During five of those years he served in the capacity of Deacon.
Pastor Clayton of The Macedonia B.C. saw the gift in him of one having a Pastor's heart. One with a driven passion that would benefit him to lead God's people in the path to salvation. He saw that Pastor Morris had integrity and a heart after Gods people. Those were the qualities of servanthood. These were the qualities of our past patriarchs that displayed faithfulness. Pastor Morris was chosen, appointed, and ordained to lead Gods people.
Pastor Morris received his license to Minister on January 20, 2002 under the leadership of Dr. Edward D. Harper, whom he served as Minister of Evangelism for three years. In 2005 God called Rev. Morris to Go to Macedonia in Neptune, New Jersey under the pastoral leadership of Rev. Tommy D. Miles. Pastor Morris was ordained on September 2008 and served as Assistant Pastor until his call to Sixth Street Baptist Church.
Pastor Morris is a graduate of Monmouth Regional High School in Tinton Falls, N.J.. His call to discipleship lead him to The Monmouth Bible Institute in Farmingdale, N.J.. After completion he enrolled at the Christian Outreach Bible Institute in Fayetteville, N.C., Where he earned his bachelors degree in Religious Studies, following his completion he then entered Eastern Baptist Theological Seminary in Wynnewood, P.A. Where he received his Diploma in Pastoral studies. Further studies led him to Eastern Bible Institute, Charlotte, N.C, where he received his Masters in Theology.
Pastor Morris has been employed by Waste Management for the last 29 years. He was united in marriage to his lovely wife Cherryl Lynn Morris in 1992. He attributes her to be his very best friend and leading supporter for more than 23 years. Cherryl has been his rock, and his anchor and she also is a mighty woman of God. In proverbs 18:22 it says "He who finds a wife, finds a good thing, and obtains favor from the Lord". Well Cherryl is his Favor. She is the peanuts in his snickers bar. They are a great team, that exudes wonderful harmonious and Godly character. The commitment that comes with leadership commands a lot of dedication, and sacrifices that she has made to his ministry, and marriage. Because of Cherryl, It has allowed Rev. Morris to proceed with the work of the Lord with unshattering stability. Pastor Morris is an appointed and anointed man called and ordained to teach and deliver the unadulterated word of the Lord. Together they have five children , Robert (deceased) Jermaine, Christopher, Derrick, and Saleema and six Grandchildren. They reside in Brick, N.J.